Horse and Dog Back Specialist - Jill Firth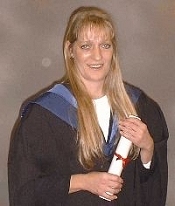 Jill Firth is a horse and dog back and mobility specialist, having trained and qualified (November 2000) in chiropractic manipulation techniques with the McTimoney College of Chiropractic. Jill's qualification is the PostGraduate Diploma in Animal Manipulation awarded by the University of Wales in conjunction with the McTimoney College of Chiropractic.
Over the 2-year course she studied such topics as: -
Veterinary Anatomy and Physiology
Neurology
Osteology
Arthrology
Pathology
Lameness
Gait and Biomechanics
as well as practical palpation and adjustment skills
Jill's experience, together with her training and qualifications, has made her one of Yorkshire's leading equine therapists.
Jill's Distinction Level (1st Class) qualification from the McTimoney Chiropractic College is only awarded to animal therapists with the very highest level of skill, knowledge and expertise and, being one of the very few to be granted this accolade, makes Jill very proud to have been the first professionally trained and qualified McTimoney Animal Therapist in the whole of Yorkshire and surrounding counties.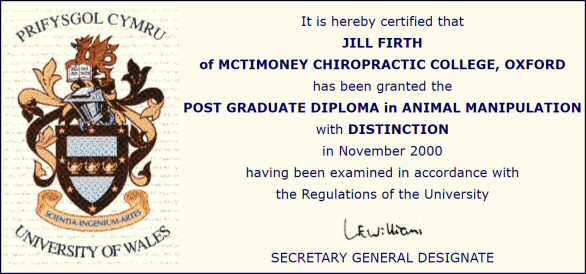 Since these early days, the additional experience that Jill has gained working with some of Yorkshires most respected equine and canine vets, farriers, saddle fitters, hydrotherapists and physiotherapists has given her a unique insight and multi-disciplinary approach to solving your animals' problems.
Contact Jill to discuss your animals' problems and possible solutions.